With a late license and a 350 capacity venue, Eiger is a versatile venue perfect for any event. In the past it has hosted everything from function events and photo shoots to live music shows and all night raves. As well as the main venue, smaller 30 – 40 capacity rooms are available to hire to cater for every need.
For more information, email [email protected]
Workspace – A space to work, relax or just hang out
As well as being a versatile venue, Eiger is a perfect place to come and work. With a fully stocked bar as well as hot drinks, free super-fast WiFi, plenty of power sockets, free parking and lots of space. As well as this, we have seperate rooms available for meetings & more.
Events
Extremely Gone
TICKETS HERE
A new party in Leeds, Extremely Gone will be channelling euphoria and melancholia to the magical Eiger Studios, with a night of trance and trance-related music. Line-up: Bambi Bambi is an Irish musician and DJ based in Dublin. Connecting the dots between euphoric and atmospheric sounds, her music, mixes, DJ sets and live performances fuse a range of genres including trance, techno, experimental, breakbeat, ambient and pop into a hypnotic spell. She has performed, DJed and composed for clubs, churches, parks, galleries, motorways, festivals and petrol stations across Ireland and beyond. We are delighted for her to be joining us for a first-ever performance in the UK. https://soundcloud.com/bamb11111111111111 ~~~ Symrun Fresh off the release of his new album on London-based record label TT, Symrun will be gracing us with a special live performance and DJ set. https://soundcloud.com/symrun ~~~ Soft Brexit Leeds-based DJ and Internet Public Radio resident Soft Brexit will be providing the soundtrack to the rest of the night. https://soundcloud.com/softbrexit If you'd like to attend but can't buy a ticket due to lack of funds, please drop us an Instagram or Facebook message. https://www.instagram.com/extremely_gone/ https://www.facebook.com/extremelygone/
SGT Lindenbaum
TICKETS HERE
SGT Lindenbaum reconvene for a final stand at Eiger studios Leeds.This promises to be an evening of music like no other, reaching for a pallet of soaring saxophones, mind melting modular synths and relentless rhythms from the one and only George Purnell. SGT LINDENBAUM will be playing a specially crafted live set made exclusively for this event, never heard before!

Support from: The Imaji CollectiveImaji Collective are a Leeds Art and Music Collective with a focus on Nature Culture and Technology. They have a Jazz centric approach to their Music and a free approach to their Art. Imaji Collective will be performing an ambient set inspired by technology and Microbiology. They are passionate about, "MAKE JAZZ YOU CAN DANCE TO".Half of the proceeds from this show will go towards Leeds charity MAP, an excellent organisation providing creative education to young people who are unable to access the mainstream education system.https://mapcharity.org/
Audial presents Innershades
Audial welcomes Innershades for his Leeds debut with strong local support.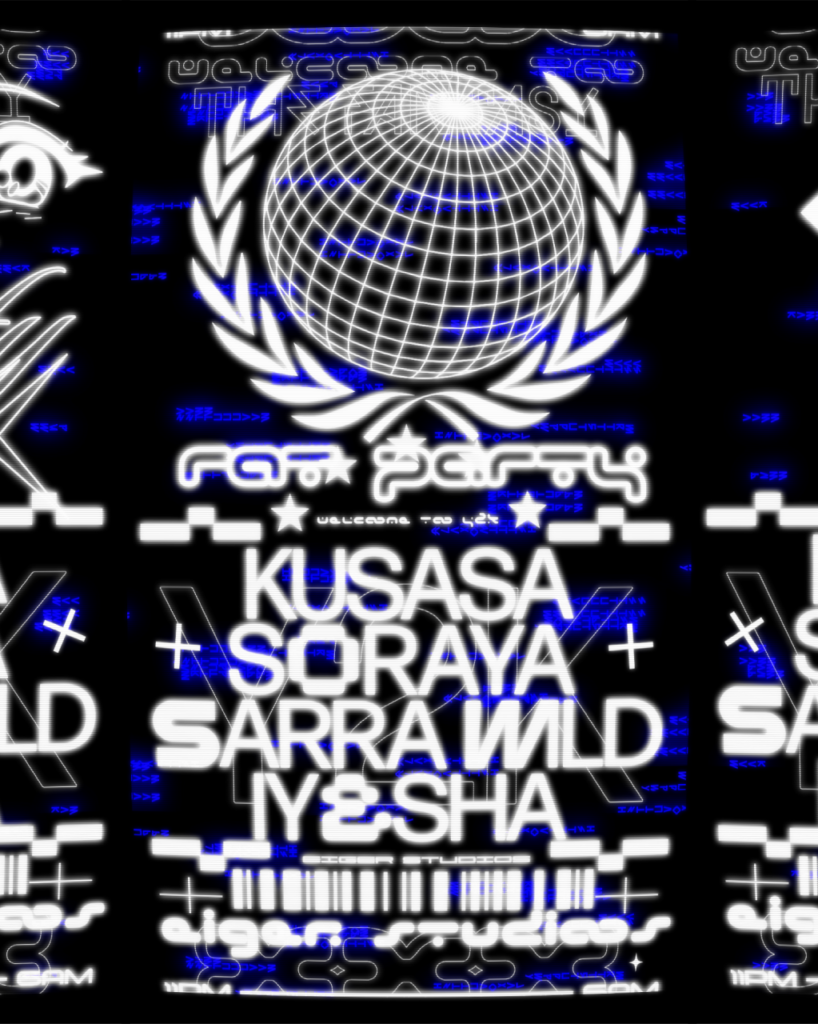 Rat Party – 3rd June 2022
Rat Party curated by IYESHA!
For our 3rd Instalment we're joined by the amazing @sanchia_rusike, @sorayastan, @sarrawild and @iyeshaaaa
with some sexy performances from @theehouseofblaque.
Artwork by @koch_a_
THE FROOT | MEATBOY | YASMIN COE
TICKETS HERE – 10th JUNE 2022
In support of the release of our 2nd ALBUM this year, we are touring the U.K, Europe & Ireland from February to August. Join us on our biggest tour to date!
We are really looking forward to playing in the wonderful venues that we have played at before, and all of the new venues that we are yet to embrace.
The Leeds date of the tour is hosted at Eiger Studios on Friday 10th June. With support from Meatboy & Yasmin Coe.
Doors 8:00PM
Yasmin Coe – 8:30PM
Meatboy – 9:15PM
The Froot – 10:00PM
Curfew – 12:00PM
Bio:
The Froot are a five-piece modern psychedelic & progressive pop-rock band from the heart of Hull. Aged between 21 and 23. With subconscious ties to the 60's/70's sound with modern elements, they are influenced by the greats such as The Doors, Pink Floyd and of course The Beatles. Their music vows to take you to a time in society that seems almost extinct today, a time where music was a way of life.
With popularity growing they have many gigs under their belt including famous venues such as The Dublin Castle in Camden, Rebellion in Manchester, The O2 Academy in Islington, and Yardbirds in Grimsby supporting bands like The Coral, Reverend and the Makers, Scouting for Girls, Mystery Jets, and Jim Jones as well as playing on tours/tour dates with Seattle based band Acid Tongue, Stags, Vryll Society, Hidden Charms, and Flyte. The Froot also had the pleasure of being the backing band for Maggie Ronson, sister of legendary guitarist Mick Ronson of David Bowie and the Spiders from Mars and recently ventured out of the country for the first time as a band with a co-headliner slot on the Made in Hull cruise to Amsterdam.
The band are backed with support and guidance from a great network of people such as Colin Lloyd Tucker (The The, Deux Fillies, Kate Bush) as their producer, ties to the Mick Ronson Legacy Trust as well as consistent radio play from BBC Introducing and a debut album engineered by Kenny Jones (Engineer of Oasis & The Smiths) which was released with Glass Records and distributed via Cargo Records.
They believe everything is in place to ascend and have their sights firmly set on increasing popularity around the UK. So go ahead and tune in, turn up and drop out as they take you on a musical journey.
HINOL POLSKA WERSJA LEEDS
Tickets Available Here
I AM AN ALIEN 2: Day & Night party
4 JUN AT 18:00 – 5 JUN AT 06:00 – Eiger Studios
Tickets HERE
Supernatural extraterrestrial beings lurk among us!After our successful LAUNCH invasion of planet Earth, Leeds has become a hotspot for beings that may move among time and space in a non-linear way.But we beings have discovered the BPM formula to fuel the groovy matter of your bodily vehicles. Soon, we will take you on a 12 hour journey across time and space with a bleooping bananza of the fleooooiuiukiest order! This time our voyage will be more far-reaching, tantilising and pleasing as we stimulate each element of your human senses.Dark matter will be used to fuel the filthiest and funkiest of trans-dimensional beats, as a variety of celestial selectors provide a plethora of zest to serenade your ears.Extraterrestial visuals will be pepper and enlighten your retinas.Our takeover of Eiger Studios from 6pm-6am will be joined by creators from across the galaxy as we share cosmic art, food and fashion with you!Come and join for the ride.LINE UP TBC:
Daudi
Cromie
Tip Top
Rude Jude
Persona Audio
Naanu
Oppa the Bison
Dom the Hopeful
Miss Bad B
Amy OS
Gzus
+ Special guest & MORE!Proceeds will be donated to charities aiding numerous causes. (TBC)
TETRA
TETRA X Eiger Studios!
* Saturday 25th June 9pm-4am TICKETS HERE
* Eiger Studios, Leeds, LS11 5NF
* Tickets available Friday 6th May
* Lineup with 2 x special headliners TBAOn the back of the remarkable success of our Launch party and PT.2 party at Rebound Social, we thought it was time for us to broaden our horizons and look elsewhere for our first party of the summer. We have been hard at work planning this one! We cannot thank you all enough for your love and support since the beginning of this venture.We are now proud to officially announce the date and venue of our next party for TETRA! We are so excited to reveal the lineup for this one including a couple very special headliners
all will be revealed this coming week! Tickets will be available to purchase via Skiddle on Friday 6th May at 11am. Link for the tickets will be shared shortly.Once again, we welcome you all to join us for the next step of our journey.#tetraszn ❤️‍🔥linktr.ee/TetraSounds – Links to our socials, mixes and more

Refresh – The Launch Event
Refresh is a brand new event to Leeds
Bringing you an evening of club classics and funky house classics that have been remixed and rebooted. We are going to party like its the 90's
DJs on duty bringing you a whole wealth
talent and experience:
Russ Richardson
James Womersley
Mister B
Sy Potter
Tickets HERE
Accessibility Info
Eiger Studios is wheelchair accessible, and flat load in areas are available at both ends of the venue. If you need a rehearsal room downstairs, please let the staff know in advance, or when booking.